O'Noir Candle Holder + Roma Candle Set
Order and get
320

reward points

Earn points by signing up for our rewards program
---
Description

Details + Dimensions

Care Instructions
Candle lovers, meet your new best friend! The O'Noir Holder + Candle Set is the perfect way to enjoy your favorite candles. Each set comes with 2 matte black metal candle holders and 2 natural blend of soy and beeswax ribbed roma candles. The holders are beautifully designed and the candles are made with only the finest materials. Whether you're looking for a romantic evening or just a cozy night in, this set is sure to please.
---
Free shipping on orders over $75
Have a question? Live Chat with us!
From our table to yours | See how they're styled IRL
#mybluummaison
This section doesn't currently include any content. Add content to this section using the sidebar.
FAQs
How do I safely use candles and candle holders?
Shipping + Returns
Fast shipping
Delivery times will vary depending on location and local customs.

Processing Time: 1-5 business days

Standard Shipping Time
Canada: 3 – 9 business days
United States: 4 – 8 business days
Other Countries: 10-15 days

Delivery = Processing Time + Shipping Time
Need it in a hurry? Choose expedited shipping for 1 day shipping time.
Order tracking
You will be notified when your order has been dispatched and you will receive a link to track your order.
Returns + Exchanges
Returns
We offer returns within 30 days of receipt. Please notify us through our contact page as soon as possible from the receipt of your goods if you would like a return.
Exchanges
If you would like to make an exchange, please return the item you no longer require, and notify us through our contact page. Once received we will issue you a refund for the value of your returned item and you can place a new order on the website. Alternatively, we can swap and send out an equitable item to you.
About us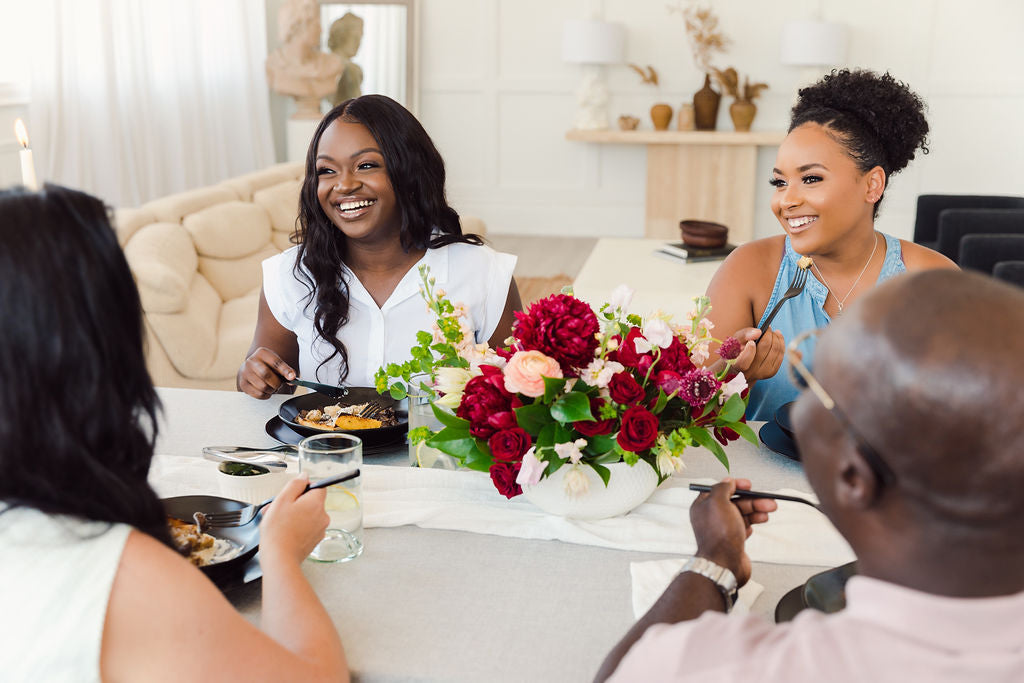 Supporting Memories
While what you see are curated collections of beautiful products, what you'll feel is a deeper connection to the people you bring together, around them. Bluum Maison was founded on our own memories of time spent around the dinner table, and we strive to simplify your hosting experience so that you can spend more time doing what matters most: being present in the company of the people you love.
Easy Elegance
While we are absolutely *here* for setting a vibe, we believe no level of immaculate is worthy of impractical. We created Bluum Maison to bring more ease into the hosting landscape without compromising on aesthetic, empowering you to uplevel your atmosphere for events, and everyday.
Intentionally Curated
Each Bluum Maison piece is hand selected by our founder – an experienced wedding designer – who's keen eye for setting the scene makes her an expert curator (and an even better host). We choose every piece with both trends and timelessness front-of-mind, sure to bring an extra dash of fashion to your function.
Making A Difference
A portion of sales are donated to Ronald McDonald House, who offer a home-away-from-home for families whose children are receiving medical care.
Midnight Tablescape
Get this look using the Maison Collection featured in the 2023 Fall Jilly Box